Slimming World Tuna Pasty
Now if you want something different, then this Slimming World Syn Free Tuna Melt Pasty recipe is it. Instead of using bread, baguettes or panini's to make a Tuna melt, making one of these pasties is just want is needed. All you need to do to make it Slimming World Syn Free is to use the wrap and your cheese as your healthy extra and you are on your way!! If you fancy a slimming world pasty this happens to be one of my favourites.
How Many Syns In Slimming World Syn Free Tuna Melt Pasty?
These slimming world tuna pasties are syn free, perfect for slimming world lunches, parties and any time of the day. If you don't use the wrap and cheese as your healthy extra this pasty turns out to be 6 syns per pasty, still not bad and leaves you with plenty of syns to spend throughout the rest of the day. If you wanted to make smaller ones, then all you need to do is cut the wrap in half and make quarters in exactly the same method and if you're not using slimming world healthy extras it means half the syns.
Slimming World Syn Free Tuna Melt Pasty Recipe
This slimming world tuna pasties recipe is perfect, quick and easy. It will have you satisfied and ready for the rest of the day. I'd also recommend trying the Slimming World Cheese and Onion Pasty (Syn Free) if you fancy a nice, naughty slimming world treat.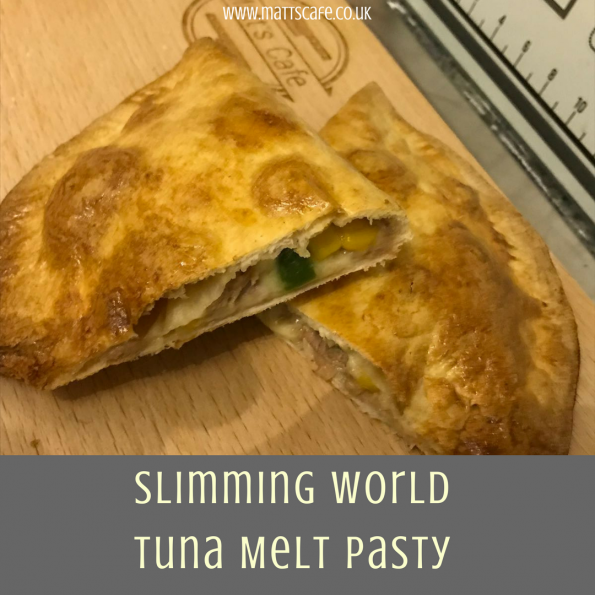 Slimming World Tuna Melt Pasty (Syn Free)
If you fancy a pasty but fed up of pastry, this Slimming World Tuna Melt Pasty is just what you've been looking for. Perfect in a lunch box, picnic and more.
Ingredients
2

Weight Watchers Wraps

1

tin

Tuna Chunks in Spring Water

Drained

40

g

Sweetcorn

Drained

80

g

Reduced Fat Cheese

1/4

Pepper

Diced

1

medium

Egg

Beaten

Frylight
Instructions
Pre-heat the oven to 200°C.

Drain the Tuna and break up with a folk and drain and rinse the sweetcorn.

On one half of the wrap, place cheese, then tuna, then peppers, sweetcorn and top off with cheese.

Brush the exposed side of the wrap and all around the edges with the beaten egg.

Fold the wrap in half and press down around the edge, trapping in the ingredients. Crimp the edges of the pasty using the back of a fork.

Place the pasties on a baking tray sprayed with Frylight. Brush the outside of the pasty with beaten egg.

Bake in the oven for 12 – 15 mins.

Once cooked, cut in half and enjoy. Remember they insides will be hot.
---
Thank you for reading and please remember you can always follow my blog via email to receive up to date posts and maybe find something to like. Check out my about page for information on sponsored posts!

Don't forget to follow me on Instagram, Twitter and Facebook …. If you have any queries or questions about my blog or any reviews then please contact me.