*[ad] The items found in this gift guide have been gifted, some links are affiliates.
Christmas is such a special time of the year, this is the time where you can spoil the people you love and get them something that they want and need. That is why I've put together a Children's Christmas Gift Guide, to give you some fantastic ideas.
If you're not sure what to get children for Christmas, you can go down the route of asking them and seeing the crazy lists of things that they come up with. I remember when I was a child, I use to get an Argos catalogue and start going through everything I wanted, I can only imagine the shock and/or horror that my parents had with the list.
Well, I'm going to try and make it a little easier for you to get some amazing gifts for children this Christmas. Here is a range of products, something that should fit all budgets.
Rubiks Perplexus Rebel
I think everybody has at some point played with a Rubik's cube, well Rubik's have really outdone themselves with the Rubiks Perplexus Rebel. This is nothing like the cube in any way, shape or form, in actual fact, this is a game with 70 challenging obstacles that you need to make it through. What makes it fun and difficult is that you have to get the ball through the maze, which is inside a sphere!
Now if you want to keep "that one" quiet for a good few hours, this is certainly going to do it. This is something that you will want to beat, especially as this is easy to play but hard to master. You may think this is for children, I would challenge you on this and say that the Rubiks Perplexus Rebel is perfect for adults.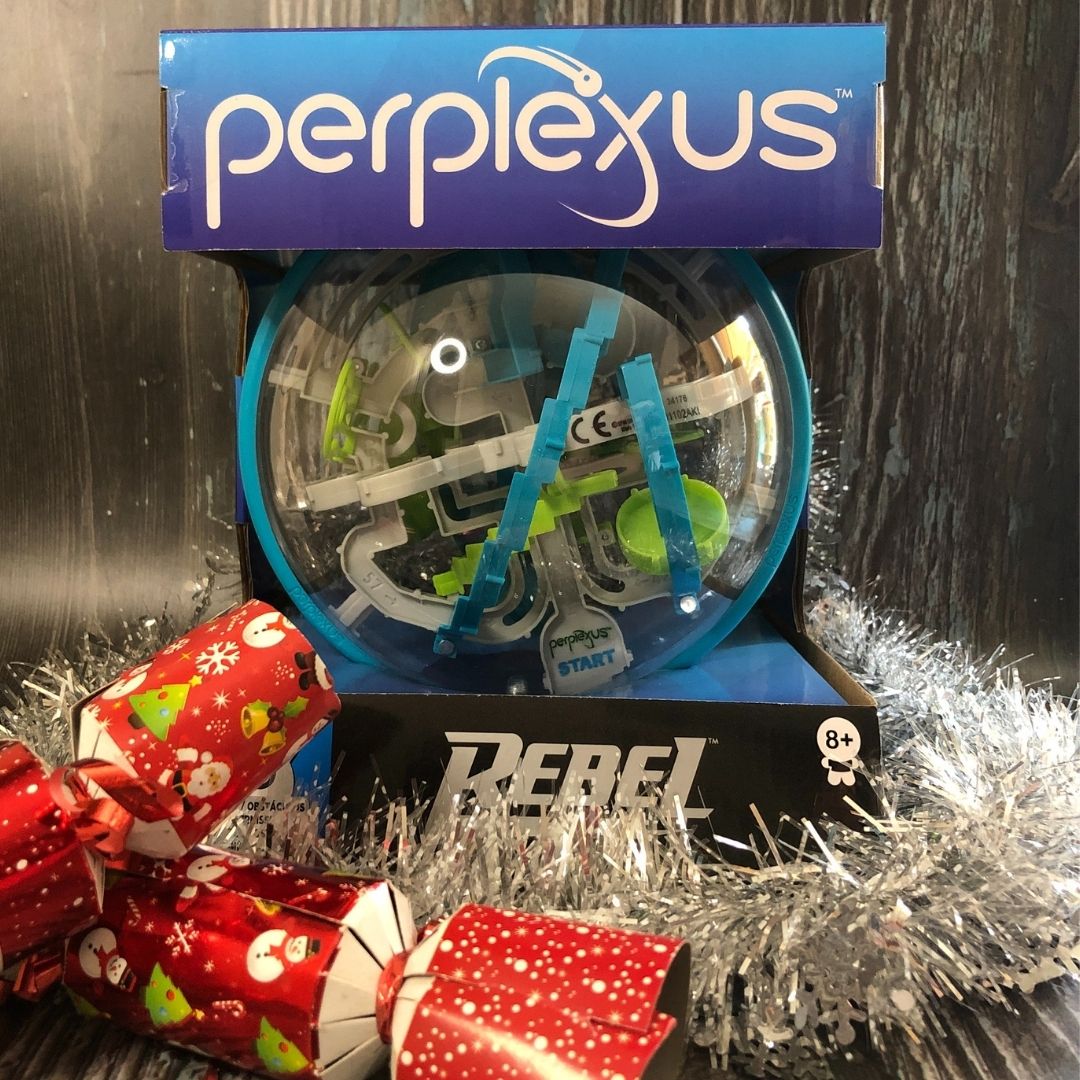 If you want to keep any children or adults entertained, then you can get the Rubiks Perplexus Rebel from Amazon or HERE. Get it ordered today and get it in time for Christmas.
Batman All Terrain Batmobile
I'm Batman!! I bet you've just said that in the style of Christian Bale. I know I certainly did. Out of all the DC characters, Batman is number one, he always has been and always will be, in my opinion anyway. Well, Christmas means that I can be what I want and have what I want, especially as I've been good all year.
That is where a brand new all-terrain vehicle comes in and not just any vehicle, but the Batmobile.
You can play to your heart's content with the remote-controlled All Terrain Batmobile, why would you need anything else?
If you're a comic book fan or have one in the family, this needs to be on the gift list for 2021. This is one of the best gifts you can get your loved one this year. The Batman All Terrain Batmobile is available from Amazon, so get it ordered and delivered in plenty of time for Christmas. Don't leave your shopping until the last minute.
Happy Nappers – Pink Kitty
Getting something fun for children is what Christmas is all about. That is why Happy Nappers will make a perfect gift for children. It is a play pillow that opens up to become a sleeping bag, making this the perfect gift for children who like sleepovers, camping etc.
Happy Nappers is one of the hottest gifts for children, last year they sold out completely, this year, they have more varieties available, so get one before they run out. The Happy Nappers have a pillow, it's extremely easy to roll out and perfect for any child.
There are a number of styles including Pink Kitty, Unicorn, Shark, Green Dragon, Owl and Tiger. They have 2 sizes, Medium (3-6 years old) and Large (7 years +). You need to get yours today, in plenty of time for Christmas, check out the link below to buy directly from High Street TV.
Botley® 2.0 Activity Set
Now it's never too early to start getting children into robotics and technology. This is where the Botley® 2.0 Activity Set comes in. If you don't know what Botley is or never heard of it, Botley is a robot that you can code.
It is the next generation of fun, giving children a toy that will provide them with some fantastic skills for the future. I would say that Botley is a STEM (Science, English, Engineering and Maths) toy, it is honestly education and fun.
Kids will be able to code in minutes and get Botley to do up to 150 steps, as well as travel in up to 6 directions. If you want to get a Christmas gift that is not only fun but educational, then this has to be on the cards.
Botley® 2.0 The Coding Robot is available either directly from Learning Resources or you can get it from Amazon. Check out the deals and get this in time to go under the tree.
Stomp Rocket Super High Performance Stomp Kit
If you want to get a child a fantastic toy that will inspire their imagination to be an astronaut, you need to get a Stomp Rocket. This is a great STEM-inspired toy that will get kids to think about getting their rocket to the moon, well to a high level at least.
The Stomp Rocket is not only fun, but it will teach children about projection, trajectory, force and motion. Especially as they will try and get the rocket to go higher and higher every time. The Stomp Rocket will get up to 400 feet in the air. To get an idea of how far that is, it's the length of a full size football pitch.
This is an absolute must for any children aged 6 and over. This is a great present that is available from Amazon, so get it ordered and ready and wrapped. This present will not disappoint.
Design & Drill® Bolt Buddies® Fire Truck
Learning Resources have some of the best STEM toys for children and here is another that is ideal for children aged 3 and up. The Design & Drill® Bolt Buddies® Fire Truck has a real working drill so that they can remove and replace the bolts in the fire truck.
The fire truck is a great construction toy that will keep children occupied for hours while developing their motor skills. The fire truck also has a ladder, fire chief and the Dalmatian fire dog so you can put our play fires. Oh, and what makes this toy that little bit cooler, the box doubles into a background to help with the imaginations.
This is a fantastic toy that can be purchased directly from Learning Resources, visit their website. If you want to get this from Amazon, you can too.
Tanglers – Fidget Toys – Tangle Pet, Tangle Atomic, Tangle Metalic and Tangle Puzzles
Tangle is a range of fidget toys that are perfect for anyone who has ADHD, anxiety, stress or someone who fidgets a lot. These toys help keep the hands and mind occupied a little to help your child, family member or friend. They are not just for children, these work extremely well with adults and these toys are far more than just a toy.
Fidgets toys have been around for a while, like a fidget spinner and the fidget pop. I have to say that Tangle is so much nicer to have, use and keep with you. They are lightweight, easy to fit in your pocket or bag and there for when you need them.
If you're you want to get these Tangle fidget toys, they are available from Amazon, so follow the links to get these, as they are the perfect size for stockings.
Tangle Atomic
Tangle Puzzles
Gears! Gears! Gears!® Robots in Motion Building Set
Some children will say that they dislike school, well how about teaching children without them knowing? That is where some of the best STEM toys come in and Learning Resources have some of the best on the market.
Robots in Motion is a cool construction set where children can build to their heart's content. Children can create a robot with spinning eyes, moving wheels/treads and so much more. This will really get children's brains thinking about being creative, that's for sure.
This is a fantastic robot toy that can be bought directly from Learning Resources, visit their website. If you want to get this from Amazon, you can too!!
Puzmats – Escape Room in Mat Form
You may not have heard of Puzmats before, well I have to tell you, these are AMAZING!!!! Puzmat is an escape room in mat format. I want to tell you more about Puzmats, there are 6 sections, you need to complete each section to create a shape in each section. To get the shape, you have to complete a series of puzzles, questions and brainteasers.
These Puzmats will keep people entertained for hours, 2 – 4 hours to give you a rough idea. This will work for up to 8 people, so you can get the whole family involved in something different. You need to give these a try and get those brains functioning again.
If you're wondering where to get these from, there is only one place and that is directly from Puzmats. Don't delay, get Puzmats, keep the children and family entertained for hours.
Edible Science Kit
Who doesn't like food? Well, now you can combine games and food together. You might think that sounds strange, well Edible Science Kit is a fun-filled chemistry set that results in 15 food experiments. Everything that you need is provided in the kit, apart from a couple of standard household ingredients.
This is fun for everyone, the toy says ages 8 years +, I can assure you that adults will have as much fun with this too. You can see some awesome experiments with Skittles, make edible slime and one of the best is chocolate spaghetti. Now if that hasn't made your mouth water, there 12 more experiments to work through, there is something that you will love.
This is a must-have this Christmas, it is something perfect for children, families and more. You can get this from Smyths Toys or even Amazon. This is between £20 – £24, so make sure you look around to get the best deal you can!!
City Engineering & Design Building Set and Playfoam® Combo 8-Pack
Sticking with the STEM toys, that is where the City Engineering & Design Building Set comes in. This is a city-themed building kit that will encourage your child to have fun with construction.
This is a set that has over 100 pieces from the buildings, ramps, cars, characters and more. There is no end to the fun that can be had and what can be made. You will be seeing your child develop their design skills, problem-solving all while having fun.
This can be bought directly from Learning Resources, visit their website here. Alternatively, you can also purchase it from Amazon. Just get it ordered in time for Christmas.
Playfoam is not like the horrendous slime, this is in fact totally different, more fun and less mess!! Carpets are safe with Playfoam, that's for sure.
Playfoam allows children to squish, mould, sculpt and shape anything that they can imagine and no matter how good or bad it is, you can smash it down and start again.
Playfoam has a bead-like structure, so will develop the sense of touch, design, motor skills and more. This is a perfect Christmas gift, so make sure you get this ordered and under the Christmas tree. You can order directly from Learning Resources or get it from Amazon.
Meccano 25-in-1 Motorized Supercar STEM Model Building Kit with 347 Parts, Real Tools and Working Lights
Now, this is a toy for children aged 10 years and upwards. To the point, this is now on my own Christmas present list!! Meccano has been around for years and I'm sure that they are just getting better and better. Just look at the Meccano 25-in-1 Motorized Supercar STEM Model Building Kit with 347 Parts, Real Tools and Working Lights.
Now Meccano is great for all ages, this is something that is perfect for children and adults alike. It really gets the engineering mind working so you can turn a load of parts into a working motorised supercar.
If you're wondering where you can get this fantastic Meccano set from, well look no further, Amazon has this and you can get this delivered to you in time to make someone happy this Christmas. This is between £25 – £35, make sure you have a look for the best deals.
Arkade Virtual Reality Motion Blaster – Black-Blue Pro Edition
Most children these days are into technology, so why not get them something fun that they really enjoy? The Arkade Virtual Reality Motion Blaster – Black-Blue Pro Edition is a perfect gift to get them into the immersive world of gaming. This VR Motion Blaster has pinpoint accuracy and will work with mobile and PC First Person Shooter (FPS) games.
The Arkade Virtual Reality Motion Blaster will work with iPhone, Samsung and PCs, you can connect it to the blaster to play your favourite games. There is no need to be concerned, the blaster has everything you need, with a fantastic motion tracker, higher speed connection, rechargeable batteries, built-in haptics and a phone holder. No need for any extra kit.
The Arkade Virtual Reality Motion Blaster – Black-Blue Pro Edition is expensive at £149.99, however, High Street TV is currently selling this for £59.99, so it is an absolute bargain. All you need to do is visit their site here.
---
Why not check out some of the other gift guides for inspiration on what to get family and friends this Christmas. Also, don't forget to put some gifts on your own Christmas lists.