*[ad] The items found in this gift guide have been gifted, some links are affiliates.
When you think of Christmas Gift Guides, you don't normally think about coffee. Well, why not? When you start thinking of Christmas presents, most people start thinking about chocolate, socks, books and that sort of thing. If you love coffee, why not something coffee related?
For those of you who are new to Matt's Cafe, welcome. For those of you who are regulars, you will know that I LOVE coffee. It is one of those drinks that I have every day. I make a freshly filtered coffee daily for work. I have coffee bags at work. I'm never without a good coffee.
If you want to see what I think of coffee and check out some of the coffees that I've tried, check out Coffee Club. For now, let's talk about some fantastic coffee which would make awesome Christmas presents.
Black Insomnia Coffee
If you've never heard of Black Insomnia Coffee, then this is one you need to take notice of. Black Insomnia Coffee boast that they are the worlds strongest coffee. I have tried this coffee and I have to say that it is delicious.
They have a couple of varieties a classic roast and a full flavour roast, both taste fantastic. Black Insomnia Coffee doesn't just do coffee, they also do cold brew, merch and more.
If you're looking for something different for the coffee-a-holic, then Black Insomnia coffee is so worth it. You can order directly from their website. It does get dispatched very quickly. This will certainly bring a smile to your loved ones face this Christmas.
Blue Coffee Box
Blue Coffee Box is one of the UK's best coffee subscriptions. Getting amazing roasted coffee delivered to your door every single month, what's not to love? Well not only is it delivered to your door every month, but it also comes in a letterbox sized box, so you will NEVER miss a parcel.
Now Blue Coffee Box may be the UK's best coffee subscription, one thing I love about what the company do, other than providing awesome coffee, is that the packaging that they use is plastic-free. Meaning it is 100% recyclable at home. Not only that, the coffee is ethically sourced.
You may think the packaging is simple. That is absolutely fine, it's not the packaging I want, it's the content. Make a coffee lovers Christmas, either order them a one-off box from Blue Coffee Box or treat them to a subscription. Check out the options on their website.
Horsham Coffee Roaster
Horsham Coffee Roaster focuses on delivering ethically sourced specialist coffee that has sustainable environmental practices. I'm all about being eco-friendly and doing what's right for the planet, so having a coffee company that shares my views gets a huge thumbs up from me.
Horsham Coffee Roasters not only have a fantastic range of coffee, but they also have reusable cups and one of my all-time favourite devices, the aeropress. I love freshly brewed coffee, I drink it every day. I can take my aeropress anywhere and always have the best coffee. No more instant coffee for me!!
With that in mind, is your coffee lover also passionate about sustainability? If so, this will fit in well ethically. If not, Horsham Coffee Roasters fit in well for having extremely good coffee.
Horsham Coffee Roaster has a range of specialist coffees, merch, coffee brewing equipment and everything any coffee drinker could need or want. Check out their website and get your order in. So you get in with plenty of time to wrap it up and get it under the tree.
Paddy and Scotts Coffee
I received some Paddy and Scott's Coffee earlier in the year to include in my monthly Coffee Club, if you haven't seen the post, check it out here. Paddy and Scott's Coffee is far more than just coffee, if you want to know what I really think about it, please go and check out the Coffee Club post.
With it being Christmas, Paddy and Scott's are doing something a little special, they have a Coffee and Tea Christmas Gift Hamper. This has to be on the cards for any coffee lover. Included in the Gift Hamper is 2 different Teapigs tea, 3 different ground coffee bags and 7 brew bags.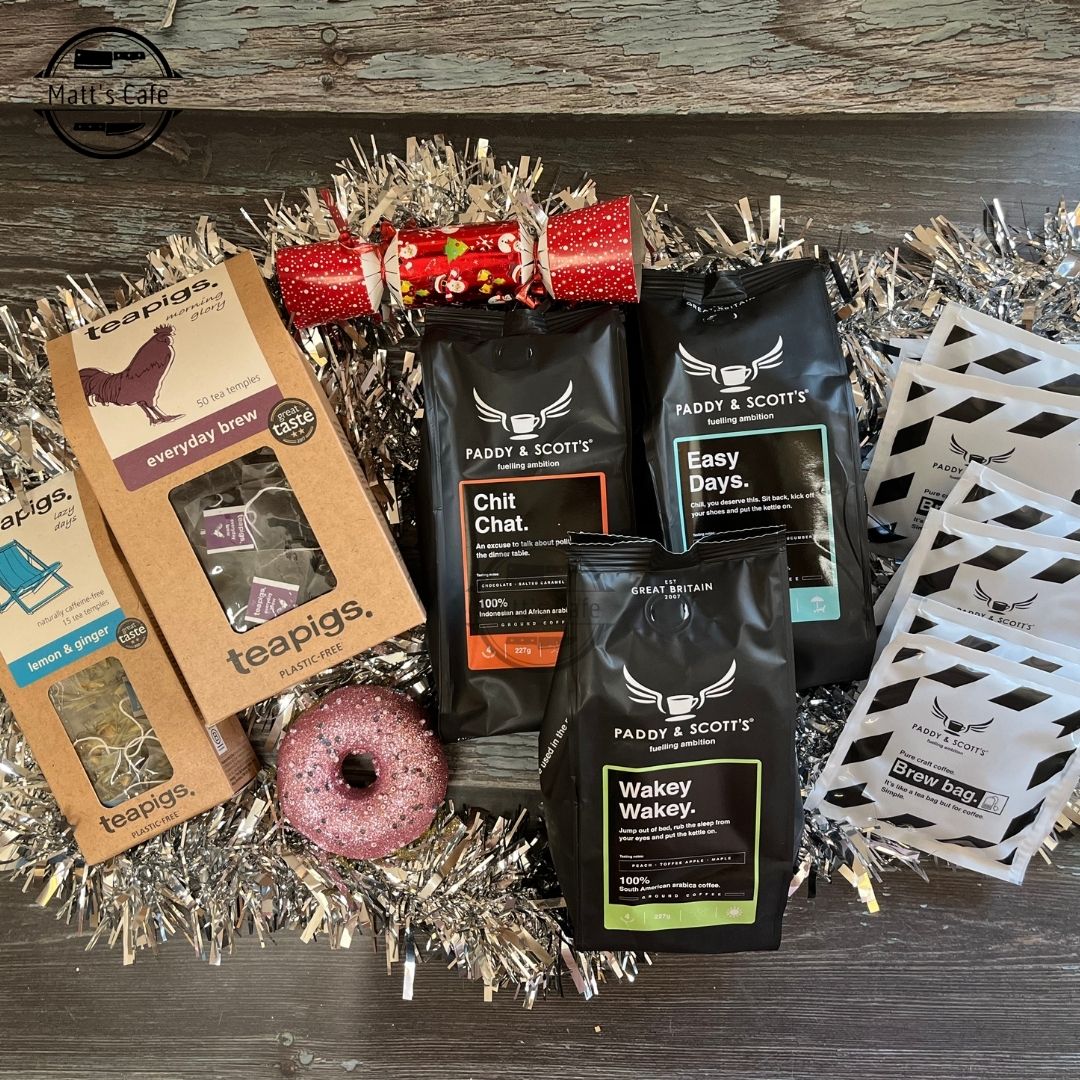 If a hamper would work for your coffee lover, then there is no better way to show how much they mean to you than with this Christmas Tea & Coffee Gift Hamper, buy it directly from Paddy and Scott's today. While you're there, check out the other coffee and merch too!!
Presto Coffee
Presto Coffee delotes what they do to providing you with barista quality coffee so that you can have the ultimate coffee experience at home. I have to agree that they do this extremely well. They have coffee available in bean, ground, bag and instant, as well as the coffee subscription so you never run out of coffee ever again.
Presto Coffee also have a range of cold brew coffee and coffee equipment. There is something for everyone. Not only is the coffee great, the packaging is fully recyclable or compostable, so by getting your coffee from Presto, you are doing good things too.
If you want to treat your coffee lover to something special, you need to get Presto Coffee, order direct from their site, this would make an ideal Christmas gift this year.
---
Why not check out some of the other gift guides for inspiration on what to get family and friends this Christmas. Also, don't forget to put some gifts on your own Christmas lists.