This post includes gifted items, all views and opinions are my own.
Gift giving can be a total nightmare and fathers day is no exception to the rule that's for sure! Dads can be terrible to buy for just like anyone else and sometimes it feels like they'd rather just spend their time resting their eyes on the sofa!
That's why it's my mission to make it easier for you to find something to get your dad this Father's day. Helps to take the stress out of the whole process because nobody wants to stress, do they! There's something for everyone in this gift guide!
It doesn't matter if your dad likes tea, coffee, chocolate, furniture, food or driving. We have something to suit every personality and none of them come with any dad jokes attached! What's not to love!
Do you have a tech-savvy dad? Does he need a new phone? If the answer is yes to either of those questions, then you need to have a look at the Emporia Smart.5 phone. This is a fantastic phone that has a unique smart flip cover, quick-access buttons, has a triple rear camera, so they can always get fantastic pictures. (That also depends on if they actually frame the shot to take a good picture). 5.5" screen and a great phone that will last them.
Why not spoil your dad this Father's Day and give him something that he will be able to use, oh and because it's a phone, that means you have the right to call him for a lift, right??
Is your dad into fitness and keeping fit? Does he need some help with his training? Well, I have a great suggestion for what to get him for Father's Day. Amonax has some fantastic home workout equipment, they cover everything from dumbbells to Fitness Training Sets and so so much more.
I want to show a couple of things that really stand out to me, they are the Fitness Training Set, which is great to build up the core and work on that belly or enhance the six-pack.
The next is resistance bands, these are perfect for getting your muscles really working and turning anywhere into a gym. As they are a pack of 4, that means you have 4 different resistances, so you can really get your pump on.
Core sliders work so much of the body, they can be used for the upper body, lower body, legs, arms and of course, your core. These will certainly be a hit.
After all of that exercise, your dad will need to do a cool down, the foam roller will make sure that his muscles are cooled down, stretch out and help prevent any soreness or stiffness.
So why not treat the fitness fanatic with some amazing new fitness and home workout equipment.
We all have dads that like different things, one thing I'm sure that all dads like is food. If you are a bit of a baker or cook, then you may want to bake a cake or cook a nice meal. To make sure whatever you're making is the best that it can be, other than being able to actually cook, the ingredients that you use are extremely important.
Bonne Maman has a range of sauces, jams, conserves, chutneys and spreads, there is something for everyone. Bonne Maman's Hazelnut Chocolate Spread works amazingly well in peanut butter and chocolate cookies, I need to try them with the Salted Caramel. The conserve works well in a Victoria sponge, jam tarts or even for breakfast on toast.
The chutneys are perfect with a board or plate of cheeses, meats or whatever you like to nibble on.
Have some fun and get your thinking caps on, make Father's Day special and give a gift that won't be forgotten. 
If you have a father who has everything, then I know the perfect gift for them, it has to be the Garmin Instinct 2 Solar. This is a fantastic smartwatch that is rugged, tough and perfect for a dad who is a bit of a fitness or exploration person. 
The Garmin Instinct 2 Solar is also solar-powered. Another benefit of the watch is that you can train your way with its own built-in sports app which will track all of your exercises. 
Now, this is seriously a watch that any dad would be proud of, it will be something that will make him smile every single time that he looks at or used it. 
Now you might think that getting your dad underwear and socks for Father's Day is a pants idea? Well, you couldn't be more wrong. CrossFly is not your average run of the mill underwear brand, they are a luxury underwear brand.
Now CrossFly has various styles of underwear and socks, not just the colours, but types, however, what you will find is that the quality of the underwear is second to none.
So make sure your dad knows that you care and get him some of the best underwear and socks at affordable prices.
We all need to keep ourselves looking and feeling good, there is nothing wrong with having nice nails and hair in the right places. Men like to feel groomed just as much as anyone else, so why not get your dad his very own grooming tools.
Ben Cohen has a great range of tools including Nose and Ear Hair Scissors, a Moustache and Beard Scissors, Nail Clippers and Nail Pliers. These tools are needed in every man's grooming regime.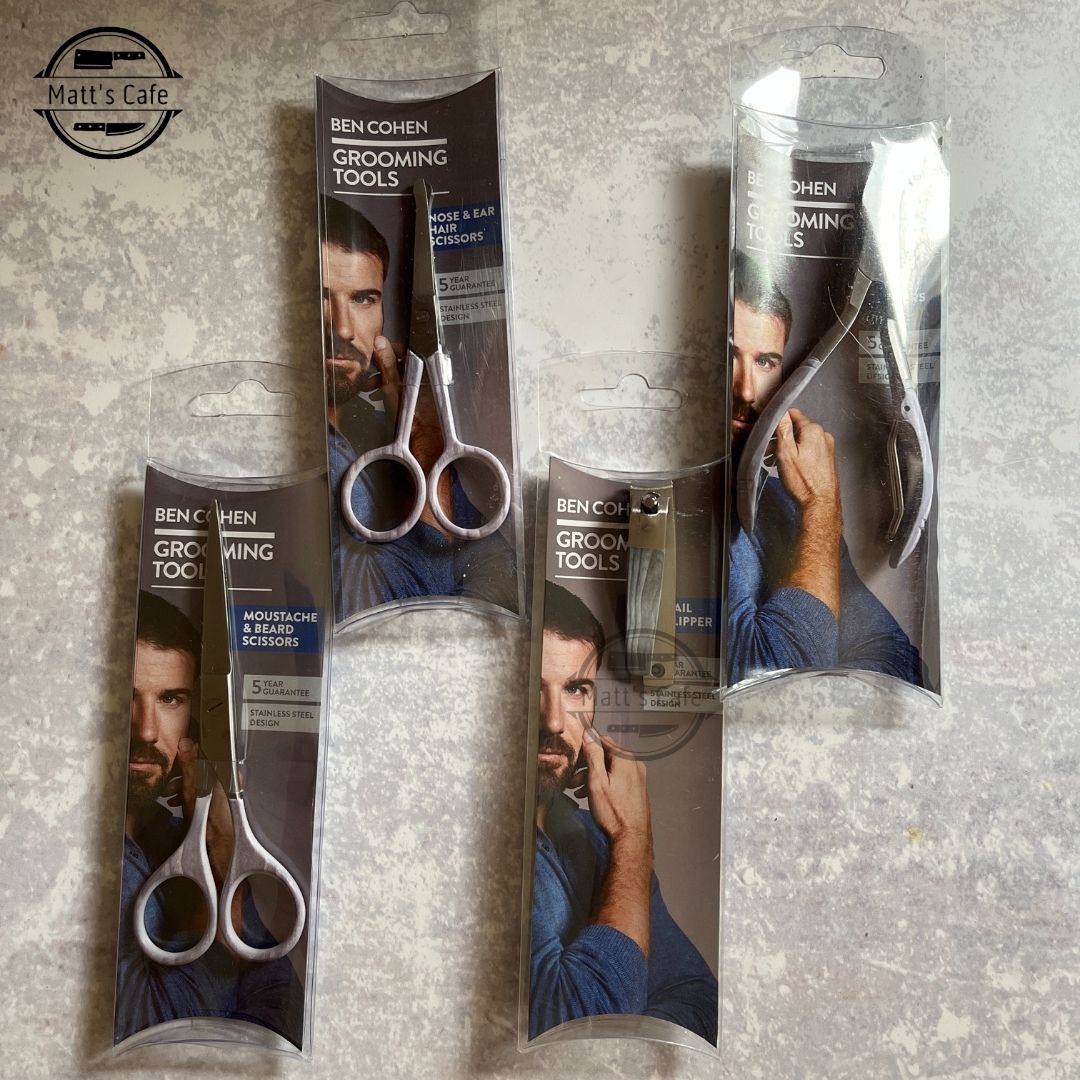 Now your dad can make sure he looks and feels great with the fantastic products from ben Cohen.
If you have a food lover of a dad, then he will absolutely love these fantastic products from Sous Chef. The first is a game-changer for sure.
Your dad can make lunchtime special again with the Pommery Wholegrain Mustard, this is perfect on sandwiches, in dressings and more. This mustard works extremely well with grilled cheese sandwiches.
If your dad likes to bake, then the cane banneton is something that he must have in the kitchen, if he doesn't have one already. When they are making bread, this will take it from being a boring square loaf into an artisan-style loaf, something that any local bakery would be proud of. The cane banneton marks the dough with concentric ridges which helps make the loaf have more crunch and a fantastic crust.
Who doesn't love a BBQ? There is always a worry if the meat is cooked all the way through and we have all been in the position where the BBQ food is a little, well done. There is now an answer to that problem and that is MEATER Plus.
MEATER Plus is a wireless cooking thermometer and perfect for BBQs, Roasts and more. You will never have overcooked meat again. This is an absolutely perfect gift for Father's Day
Who doesn't like a tipple on special occasions? Well, make Father's Day special with these fantastic new drinks.
Disaronno has launched a new cream liqueur called Disaronno Velvet Liqueur. It has the classic style and flavour of a cream-based liqueur, so you know that this will be perfect over ice.
Next is Tia Maria, this is the classic coffee flavoured drink, however, they have taken inspiration from Japan and created Tia Maria Matcha Cream. This is a cream-based liqueur with the unmistakable flavour of matcha, a drink that would work well over ice or even in a cocktail.
You can always spoil your dad with a drink, it doesn't have to be alcohol. Kombucha is made from sweet tea, so you can be sure that there are a number of flavours and the tastes are amazing.
You can see the Remedy Kombucha comes in 4 flavours, Cherry Plum, Mango Passion, Raspberry Lemonade and Peach.
These drinks are great served cold, so get them in the fridge quickly, and serve them over ice, they will make the perfect drink this Father's Day and through summer.
If you've got a dad that has everything, then you need to get him something that he will really enjoy. Readly Digital Magazine and Newspaper Subscription is the perfect gift, allowing your dad to pick what he want's to read.
With Readly Digital Magazine and Newspaper Subscription, you will never be stuck for a gift again, they have over 6,300 magazines to choose from, so there is no doubt that there is something your dad will love.
Readly Digital Magazine and Newspaper Subscription is such a great gift and one that won't break the bank at only £9.99, however, they have a deal at the moment where you can get 3 months for the price of 2, so get this for dad.
Now FATSO Chocolate is the finest Columbian dark chocolate, with a slightly offensive name. The taste of the chocolate, however, is amazing. This one is Cornflake, Toast and Marmalade, they have a load of different flavours, there will certainly be something for everyone.
Go check them out.
If your dad is one of these people who takes their own lunches to work, then they are probably fed up with sandwiches. Well now they can have something different, they can have soups, stews or whatever nice hot food you can fit in the food flash.
The SHO food flash will keep your food hot for long periods of time, and comes with an airtight lid and a foldable spork. Now I never knew how good a food flask was until I tried one for my set.
I have to say that this has completely changed lunchtimes for me and I know it will for my dad, that's for sure. Get one of these and show your dad that he too can have delicious lunches again.
Father's dad always falls in June, meaning that it happens at the start of summer, when people start to BBQ and get outside, spend time together and have some delicious food. Well, I have the perfect treat for any dad that loves to BBQ.
Traeger has a range of products that are perfect and need to be in your life, the first is Butcher Paper, which can be used to wrap meat, fish or veggies, it is great for BBQs. The next are spices and rubs,
Traeger has a range of spices and rubs that you need to check out, you can see 3 of them here, Jerk Rub, Prime Rib and Veggie. This will turn your meat and veggies into amazing taste sensations. This will make a perfect Father's Day gift and one you can also benefit from.
If your dad is allergic to dairy, lactose intolerant or doesn't eat dairy, chocolate is not an option for a gift idea. WELL!!! That has all changed with Happy Chocolate, this is a chocolate that is made from Oat Milk, so now they can enjoy chocolate again.
You can see that there are a number of bars and flavours, this includes classic milk chocolate, white chocolate, orange, salted caramel and more.
Show your dad that you care about their preferences and make them Happi.
If your dad is tea total or looking for a better mixer for his drinks, then you need to see the offerings of Fentiman's. They have some fantastic flavoured drinks Ginger Beer and Curiosity Cola. Both taste great on their own, they also taste great with a little bit of something too.
There are so many more flavours and also tonic water, why not treat your dad to something a bit different and certainly more grown-up.
If your dad has a sweet tooth, let me suggest the Green & Black hamper for Father's day! It's packed full of goodies and enough in there for any dad to be over the moon with! It comes in an amazing wicker hamper which alone shouts expensive but the chocolate really is the cherry on top!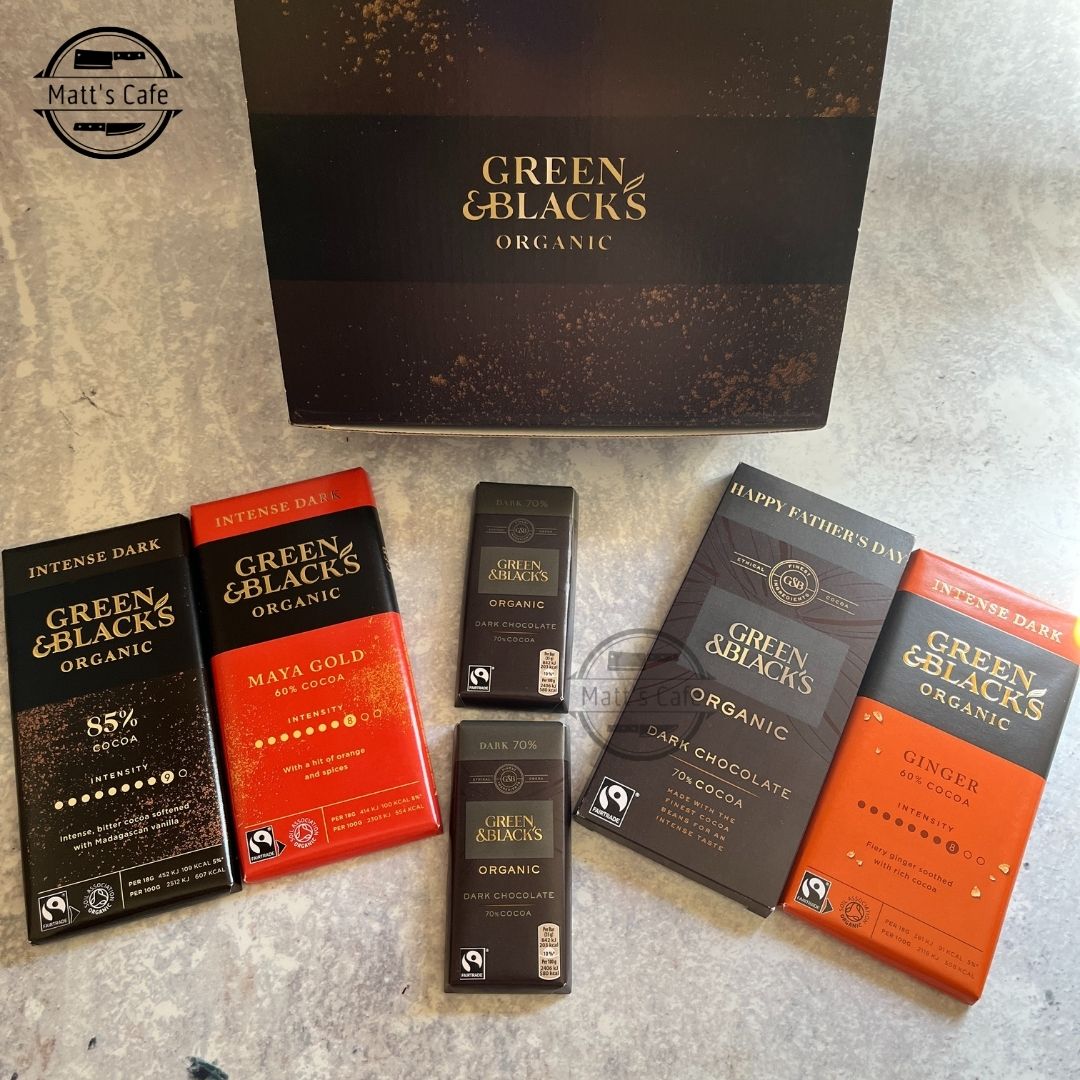 Every dad would love to get a nice range of chocolates, so spoil them with this hamper. Don't just tell your dad you love him with a card this Father's day! Do it with Green & Black's chocolate!
No matter what, Cadbury's chocolate is one of my all time favourite chocolates and will be for life. I know my dad also is partial to a bit of chocolate, so this will always hit the mark.
There is no better gift to say thanks for being you, than a HUGE bar of chocolate, just remember, they will have to share with the bar being so big.
Give your dad the gift that you can enjoy together.
Father's Day is all about treating dad, giving them something special that they deserve, just to say thanks for being them. As Father's Day is there to celebrate, why not spoil your dad with Guylian Belgian chocolate, they now have a fantastic new look.
Make Father's Day special with these delicious chocolates, they are amazing and I'm sure your dad will let you share these chocolates with them. One thing you can be sure of, is that your dad will know how much you care.
Let me know what you liked the most in this Father's Day gift guide?! I'm always open to new suggestions or ideas as well so let me know what you got your dad this Father's day, maybe I can pick up some new ideas!