Over on the Facebook Group, I asked a question about what people wanted to see recipes for, one of my wonderful readers wanted a burrito recipe, so here it is.
This beef burrito recipe is such a delicious recipe, packed full of goodness and served in a tortilla wrap. You can then serve it with a salsa or any other sides that you think are suitable.
What is a Burrito?
If you've never had or never heard of a burrito, it is a Mexican dish, consisting of a flour tortilla filled with a mixture, which can vary, wrapped up into a tightly wrapped cylinder and eaten. There is no need for a knife and folk here, burritos are like burgers, you have to use your hands.
If you think you can put anything in a burrito, I would say no. Burritos have a savoury filling consisting of a protein such as beef, chicken or pork, then rice, beans, lettuce, tomatoes and cheese. You can also include some toppings in your burritos such as sour cream, salsa or guacamole.
Is a Beef and Bean Burrito Good on Slimming World?
In all fairness, it is all about the wrap here. If you are using Weight Watchers wraps, as long as you are using it as your Healthy Extra B (HEB), then it is syn free, that is for 1 wrap. If you are not using it as your HEB, then it is 6 syns per wrap!! The same applies to cheese, you can use some as your Healthy Extra A (HEA). If you have already used your syns, then you will need to add 4 syns per 25g of cheese.
Don't forget, if you're adding any toppings into your burrito, you will need to syn these.
The filling itself is syn free.
Now, this is where things get interesting if you want to make your own tortilla wraps made from egg, a little like a crepe. Then these wraps are totally syn free and you can eat as many as you like.
Beef and Rice Burrito Cost
Mexican food like this is delicious, it is so good for you as you're using all fresh ingredients. On the flip side, this is such a cheap meal to make, your family will want you to make this again and again.
If you've you are wondering if Mexican food is spicy, the answer is up to you. Like most dishes, it all depends in you want chilli or chipotle, this can be added or not.
If you are wondering what chipotle is, you may be surprised to hear that it is roasted jalapeños that have been dried and ground into a powder. Chipotle sauce is delicious and certainly will add a kick to any dish.
Recipe Cost Breakdown
*Prices correct as of April 2020
| | | | |
| --- | --- | --- | --- |
| INGREDIENTS | WEIGHT | CALORIES | PRICE |
| Weight Watchers Wraps | 6 | 708 kcal | £1.25 |
| Mince Beef | 500 g | 750 kcal | £2.79 |
| Rice | 150 g | 257 kcal | £0.10 |
| Mixed Beans | 400 g | 240 kcal | £0.65 |
| Tomato Puree | 28g | 38 kcal | £0.06 |
| Onion | 150g | 60 kcal | £0.05 |
| Cumin – Ground | 2 tsp | 16 kcal | £0.14 |
| Coriander – Ground | 2 tsp | 16 kcal | £0.14 |
| Garlic Powder | 1 tsp | 28 kcal | £0.04 |
| Chilli Powder | 0.5 tsp | 4 kcal | £0.03 |
| Stock Cube | 1 | 33 kcal | £0.04 |
| | | | |
| TOTAL | | 2150 kcal | £5.29 |
| | | | |
| PER SERVING | | 536 kcal | £1.32 |
Mexican Beef Burrito
I absolutely love Mexican food, I think that it is so simple to make and when it's made at home, it is far superior to any Mexican fast food which you get in the UK and USA. By making it at home, you have complete control over the quality of all of the ingredients, so much so, it will cost you so much less than getting fast food or a takeaway.
You can get the beef burrito seasoning just as you like, the right amount of chilli, cumin, paprika and garlic. It is such a simple seasoning that it would also work on mince for nacho's.
If you want to know what to serve with beef burritos, keep it along the mexican theme, so guacamole, refried beans, corn on the cob or even some nachos. Just remember, it needs to be delicious.
If you're looking for some other fakeaway recipes, then check out some here. All are fantastic to make, better than the takeaways for sure and you can't beat home cooking.
Beef and Rice Burrito Recipe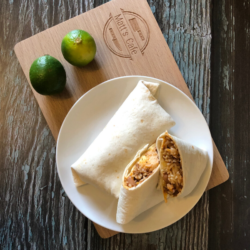 Beef Burrito Recipe with Rice
Ingredients
500

g

Beef Mince

Low Fat

400

g

Mixed Beans

Can us just Kidney Beans

150

g

Long Grain Rice

8

Weight Watchers Wraps

2

tbsp

Tomato Puree

1

Medium

Red Onion

finely chopped

2

tsp

Ground Coriander

2

tsp

Ground Cumin

0.5

tsp

Chilli Flakes

You can use more if you like it spicy

1

tsp

Garlic Powder

Low Calorie Cooking Spray

Salt & Black Pepper

To Taste

300

ml

Beef stock

Can use vegetable
Instructions
In a large frying pan and cook the onion for a few mins with low calorie cooking spray, to soften. Add the minced beef and cook for about 5 mins, until the mince is brown.

Put a pan of water on to boil, add some salt to the water.

Add the coriander, cumin, chilli flakes, tomato puree, stock and beans to the mince. Leave to simmer for 20 mins.

While the mince is cooking, Add the rice into the boiling water and cook as directed on the packet. Once cooked, drain and keep warm.

Warm the tortillas up so that they are easier to fold.

Make sure that the mince mixture, the water has near enough all gone.

Then get your tortilla, add some rice, add some of the mince mixture, add your toppings (lettuce, tomato, cheese, salsa). into the middle of the wrap, making sure you can fold all sides

Fold over the top of the wrap and make a tight sausage shape with the filling.

Now fold in the left and right side. Then roll the rest of the wrap so it is a cylinder.

Serve and enjoy.
Thank you for reading and please remember you can always follow my blog via email to receive up to date posts and maybe find something to like. Check out my about page for information on sponsored posts!
Don't forget to follow me on Instagram, Twitter and Facebook …. If you have any queries or questions about my blog or any reviews then please contact me.